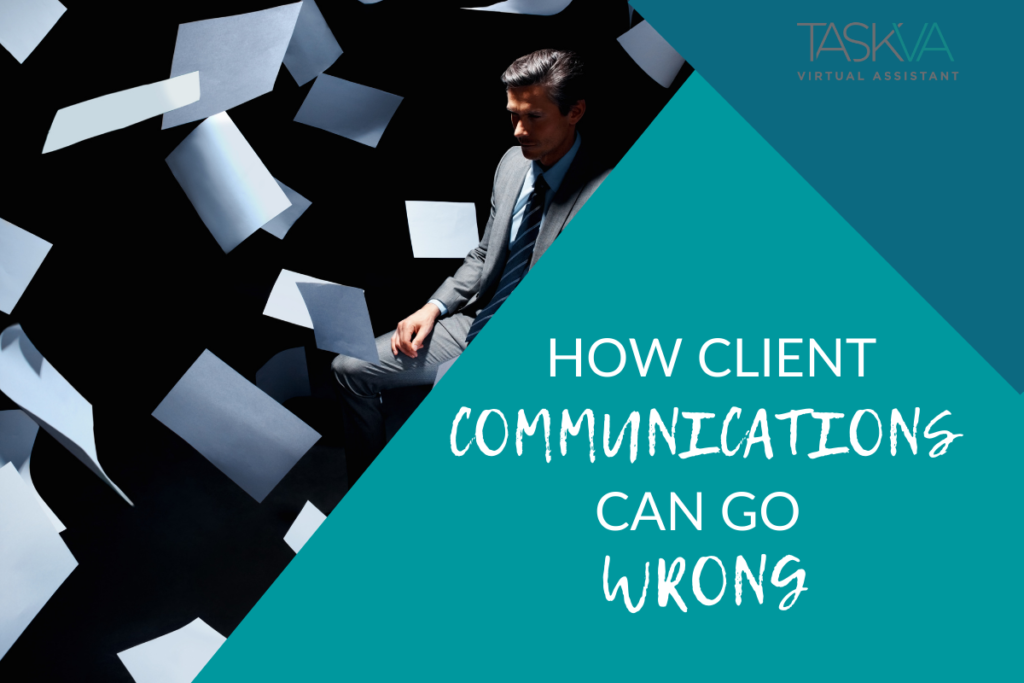 How Client Communications Can Go Wrong

Client communications are the secret ingredient that can turn any business venture into a sizzling success or a fizzled failure. Your clients are willing to put their trust and faith in your ability to deliver the tax and accounting services they need. But this is a type of trust that can be easily broken.
One reason clients quickly lose confidence in you is the lure of the competition. Maybe they've heard good things about the company down the road, and they're wondering if the grass is greener on the other side of the fence.
Maybe they're worried about money and subconsciously looking for any reason to break up with you in a professional sense so they can rationalize not investing.
Here are some common reasons why your client communications can go wrong and how that ultimately breaks their trust in you.
Becoming too personal with clients
There is a fine line between showing your humanity to people with whom you do business and over-disclosing.
Over-disclosure means sharing personal details that are irrelevant to the client's reason for coming to you.
For example, maybe the client needs your guidance on managing finances more effectively. A revealing conversation about your recent divorce would not be relevant to the topic in question. It might even have the client thinking less of you for being unprofessional.
These talks may ultimately lead you to a broken client agreement or an order that never materializes. Therefore, it's best to avoid getting too personal when dealing with people professionally.
Overwhelming clients with too much information
Your clients come to you wanting help, guidance, or solutions. For example, they may need an expert to prepare their taxes, provide payroll services, or other accounting needs.
Overwhelming clients with too much information means getting too deep into your offer's finer points. It's more than likely that they only need an overview to help them understand your competence and capabilities. And they require time to digest the information you've provided.
If you throw it all at them, they might even think of you as less of an expert when all is said and done.
A professional presentation typically contains clear, concise, well-ordered points that support the main idea and provide enough supporting detail to facilitate meaning.
Going off on side tangents in your client communication does not lend credibility in their estimation.
Not providing enough information
On the other hand, one surefire way to break trust with your clients is not to provide enough detail.
We talked about over-delivering, but probably a more common predicament is the company whose clients come to them with unmet communication expectations.
There is a delicate balance between over and underwhelming your clients. So naturally, you want to walk this fine line if you hope to gain their admiration, respect, and trust in your ability.
If you have trouble knowing how much is too much versus not enough info to provide clients, try crafting it in advance and use it as a guide during your conversation.
Providing irrelevant details
The problem of providing details that the client may not need likely stems from an accountant's need to prove their expertise.
The client may initially be impressed by your accumulated knowledge, sure. But ultimately, if the topic gets off track of their problems and how to solve them, the client will leave the conversation scratching their head. In addition, irrelevant information will leave them wondering if they should have gone with someone else who's work is more relevant to them.
If you have trouble sticking to the main issue when talking with clients, you might try preparing a script for each type of problem that people will likely come to you with needing your expertise to solve.
Don't read off the script like you're in the school play. Instead, use it to cement the thoughts in your mind. Then, practice a bit with the script in hand so you can convey your thoughts in an organized fashion when the time comes.
Not personalizing your message
Your clients know when you are reading off a script.
Most of us have experienced the frustration of sitting on a client service call and hearing phony, scripted questions like "How can I make your day great," your clients are not likely to fall for a dialogue between you and them that takes place with you reciting lines off a cue card.
If you are not in a profession where talking comes naturally, you can give yourself a cheat sheet by writing out a few bulleted points on note cards to help you keep client calls flowing productively.
However, in time you should become more comfortable with speaking to clients. If you organize the points you want to make and continue to practice saying them naturally and conversationally, eventually, you'll find that the cards are no longer necessary.
Do you control your day, or do your tasks control you? Take our short quiz and find out. The results may surprise you (or maybe not).
Check it out for yourself!  Click below to get started