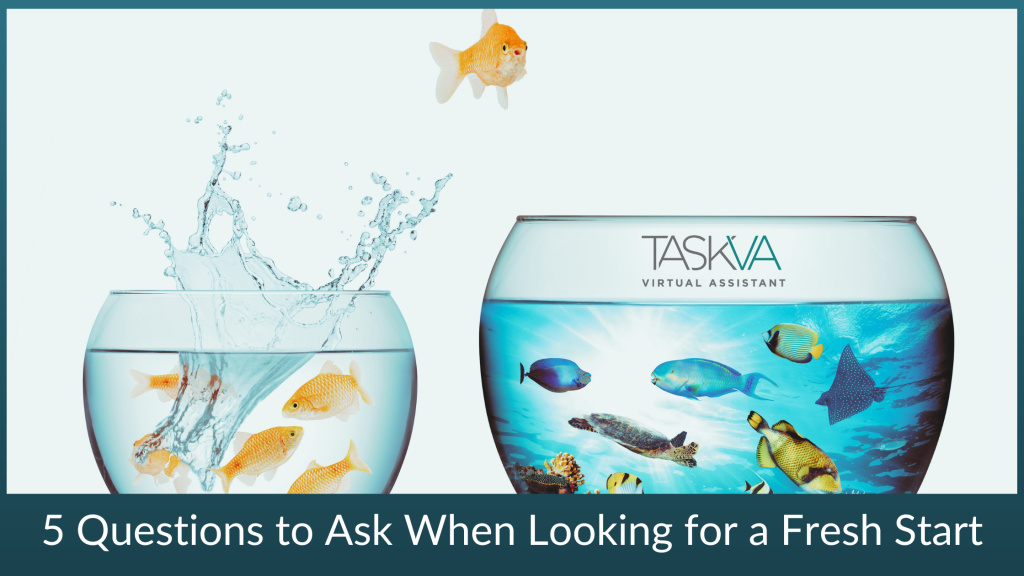 5 Questions to Ask When Looking for a Fresh Start

That's it. You've had it. Life is just not going as well as you'd like. It's time for a change, a Fresh Start! Sometimes starting over and cleaning off the slate is just what the doctor ordered. I should know; I'm the Fresh Start Queen. But how do you know where to begin? How do you know if you need a fresh start or maybe just a break?
It's simple. You start by asking yourself these five questions:
1. What Do You Really Desire?
Too often, what we think is a change in our life is nothing more than a dressed-up version of the old. To avoid falling into this trap, you must look at real and actual change.
Start by asking these hard questions:
What do you want out of the change?

Probably the most important question, so spend some time with it. Be brutally honest with yourself. Even if it's only to spend Saturday morning watching cartoons as when we were kids, you must understand exactly what you want.

How are you not getting this in your current situation?

Remember the saying, "You can't see the forest through the trees," and dig deep here. Take off those blinders and look around.

What would you need to do to attain this?

Create your roadmap. Write out a few SMART goals and create your plan to make this change happen.

And finally, what's one positive change you can make right now that will place you closer to this dream?

Declare your desires as if you have already obtained them. Speak affirmatively about your needs rather than focus on what you do not have or dissatisfaction.
2. How Many Risks Are You Willing to Take?
Fresh starts will demand a commitment from you, which manifests in how much of yourself you are willing to put into the project. If you are not willing to risk a new way of life or much in the form of change, you will not have much success.
I mentioned earlier that I am the Queen of Fresh Starts. I've never been one to shy away from going after what I want. About fifteen years ago, I made a huge decision to start a new life. As the Little Rascal's song goes, "packed what I could, sold what I couldn't, stopped to fill up on my way out of town," and my next verse was "start spreading the news…" and just like that, I left my job, my family, my home and moved to New York.
I didn't know anyone in New York, but I had accepted a contract position as a network administrator and knew this was the opportunity I had been looking for my entire life. So I took the risk, and those who know me will tell you, it was the best thing I ever did for myself.
3. What is Different About the Life You're Proposing
If you are looking for a new beginning, there must be something 'new,' or you are not starting over. Instead, you are merely continuing what you've been doing all along. So, what is the thing you haven't done before?
For me, it was freefalling. I didn't have a backup plan this time because I never once thought I was making a mistake. 
4. What Are You Giving Up?
A new beginning means something else is ending. So what are you leaving behind? 
I was giving up the stability of my family and friends, of knowing an area so well I could make it home blindfolded. I was giving up my comfort zone. 
Remember that this question doesn't imply you must abandon every aspect of your past. Sometimes we are leaving behind only a small part of our life.
5. Are You Truly Ready to Let Go of the Past?
This last question can be challenging because you might not know the answer until you have begun. Your fresh start will fail if your past baggage is weighing you down. At the very least, it helps to have a positive attitude about letting go and are willing to do the work to make this happen.
In the end, these questions will give you some idea of what to expect as you embark on this journey of letting go. After all, being prepared truly is half the battle.