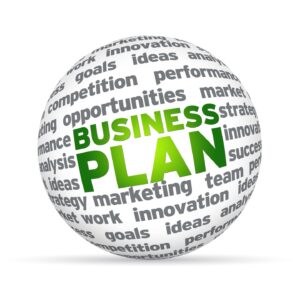 A Simple Guide to Creating a Realistic Business Plan

"Our goals can only be reached through a vehicle of a plan, in which we must fervently believe, and upon which we must vigorously act. There is no other route to success." – Pablo Picasso
I can start and end this post with Picasso's quote; it says it all. The truth is most businesses that fail, or owners that burn out do so due to a lack of planning.
Many small business owners think their home or small business does not need a real business plan because they are not trying to get a business loan. So why do you need to do all that planning? For starters, if you want to succeed, and you want it to be repeatable, and you want to avoid the potential for burnout, you must develop a business plan. A business plan will help you structure, run, and grow your business realistically and sustainably. And guess what? Creating a business plan isn't even hard to do. So let's learn how to make a one-page business plan for your home or small business right now.
Think of your business plan like an owner's manual; it should be specific to your business and include as much information as you need to help guide you with your business. Let's look at the below seven key elements that should be included in your one-page business plan.
Describe the Problem
You'll want to write a detailed description of the problem you can solve for your customers, along with any relevant data describing how you can do that.
Your Product or Service
This is the solution to the problem above, so you'll want to go through each product or service you offer and describe how it solves the customer's problem. Keep in mind that your plan does not have to be contained to only one page. If you have more than one solution, this area might take more than one page; however, going through this can help you with marketing later.
How You Make Money
This is considered your business model. Therefore, it is important to answer these five questions:
How will you make money?
How much will it cost you to make money?
What is the price the customer will pay for the solution?
How will the customer pay - online service such as PayPal or Stripe, check, cash?
What are the terms - payable on receipt, net 30 days? Will they need to pay before services are rendered, and if not, will you require a deposit?
Describe Your Customer
Understanding your target market is an essential component of your business plan and your business planning needs. Include a customer avatar through the buying journey. Talk about how many customers there are and how much you can earn from each customer throughout their life cycle.
Describe How You're Different
What sets you apart from your competition? This is called your "competitive advantage" in business. It's how you use your differences to stand out from the competition and create customer loyalty.
Describe Your Team
Even if it's just you, it helps to write down all the tasks and roles to accomplish to make this business work. Then, include the technology you can use, such as email marketing software, funnel software, and other automation.
If you plan to outsource anything, write that down too. Maybe the first year you're doing it yourself, but include financial metrics that trigger outsourcing or major software purchases.
Include Key Financial Metrics
You need to know what your budget is for marketing, software, outsourcing, and so forth. This is often called a Financial Summary in a business plan. You'll want to include figures for now and your future as you forecast potential sales. Finally, you'll want to add what funding you need right now to get started or to move forward with your business.
For now, focus on writing a summary of each section to see what needs to be done. Then, as you move forward, you can add more information to the plan, which may make it grow past the one page, but it will be a helpful exercise to help you keep on moving toward your goals.
And, as you move toward your goals, remember one of my favorite Yogi-isms, "If you don't know where you are going, you'll end up someplace else." - Yogi Berra.  Writing down a realistic business plan that balances with your entire life will help you see your goals and objectives more clearly and plainly, thus allowing you to really accomplish what you set out to do rather than keeping it as a dream.