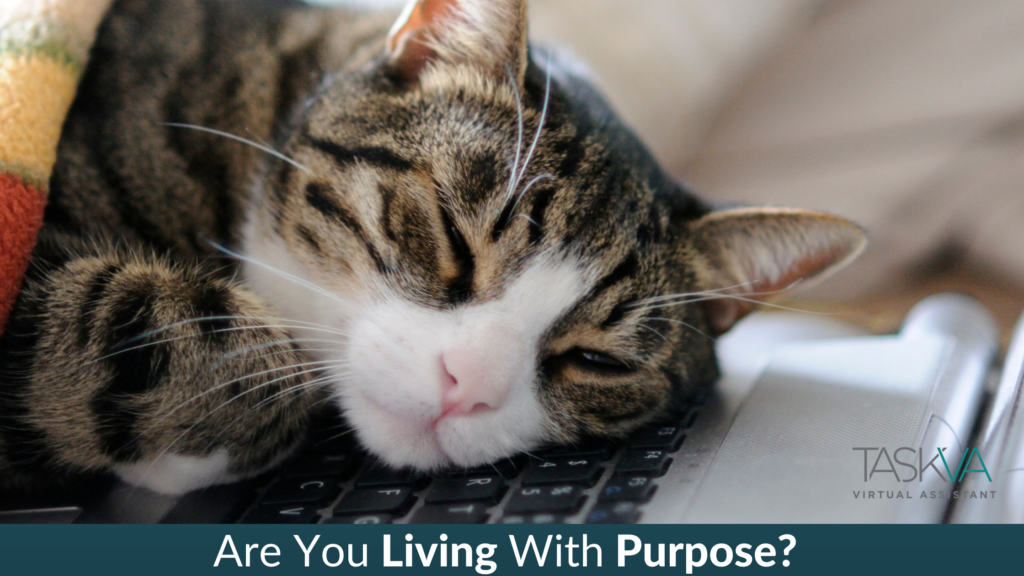 Are You Living With Purpose?

Do what you love and you'll never work a day in your life.
Throughout history this quote or some version of it, has been used by many. Could this truly be the real secret to success? I certainly do not have the answer to that, but I know that I never feel like I'm working, and I love what I do! I sometimes feel guilty, wondering, am I working hard enough? I feel too good, too happy. I no longer have that toxic stress that plagued me so much in the Corporate world. And for that, I am truly thankful!
Ask yourself "Do I love what I'm doing?" Don't worry, no one will know the answer but you. However, if you didn't answer "Hell Yes!" without a moment's hesitation, it's possible you have misplaced your sense of purpose. Read on and see if you can find that excitement you once had.
Know Your Purpose
I suspect you want to be your best possible you. How will you know who that person is and what they're capable of unless you know your purpose?  
Discovering and aligning with your calling means you identify and build on your talents. What is your passion? What do you love doing? Chances are you're already good at it. Why not focus on your natural gifts and turn them into your greatest strengths?  
Know Your Priorities
Your priorities are shaped by your purpose. Once you know your purpose, it becomes easier to achieve your goals. This clarity means that saying no to some things and a hearty yes to others becomes more natural, and you'll get ahead much faster.  
Balance It Out
Once you're comfortable with your purpose, you will find some of the stress and anxiety ease up.  Those little things that added up to big things, no longer seem as important. You don't have to work 24/7. You know how important it is to stay healthy, emotionally, and physically. People living with purpose make sure to connect with the people they love, and they don't forget about self-care.  
Follow Your Passion 
Knowing your passion will help you find and nurture your purpose. Passion means energy and motivation; it means being really engaged with life and focusing on getting the most out of it.  A new day is full of opportunities and promise, and you're ready to go for it! 
Be Happy
This might sound a little surprising, but knowing your purpose and living it,  gives you time to smell the roses. Knowing your purpose takes the anxious edge off things and allows you to feel grateful for where you are now, and to be excited for the future.  
Live in the Now
Perhaps the best part of knowing your purpose is that you relish every moment. There's no room in your life for regret because everything you do is part of the big adventure. Challenges and setbacks become easier to ride out because you're not letting failure define you. Being plugged into the present allows you to feel the abundance that's already in your life.  
Finding your purpose, the reason why you are doing what you do, can turn everything around. It can make your life and work immediately more meaningful, giving you a reason to bound out of bed in the morning instead of grouching your way to the coffee pot.  
And living with that purpose helps to make the tough times easier to deal with, and the good times even better.