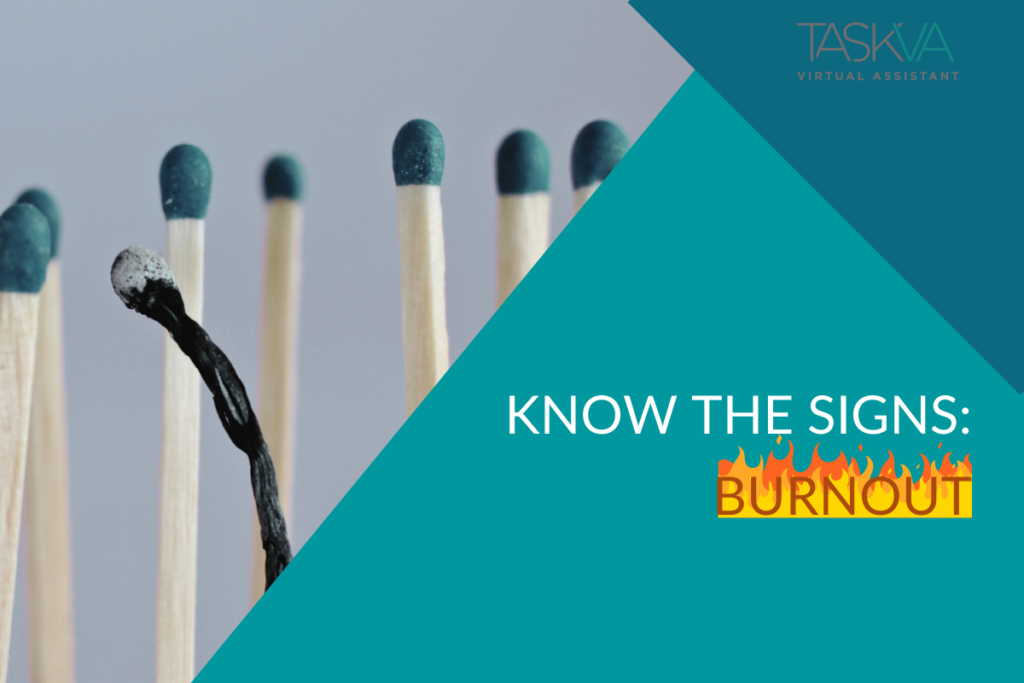 Know The Signs Of Burnout

Burnout is often mistaken for being overworked, burning the candle at both ends, all work, no play, you get the idea. And while yes, all those can and will lead to burnout, it's also important to know there are other factors, such as hating your job, your situation, or not getting the support or appreciation you need from others. Recognizing the warning signs of burnout is crucial to prevent it from spiraling out of control.
Before we dive into recognizing burnout, let's understand what it actually is. Burnout is a state of chronic physical and emotional exhaustion caused by excessive and prolonged stress. Small business professionals, like Accountants and CPAs, often find themselves working long hours, managing tight deadlines, and handling demanding clients, which can take a toll on mental and physical health.
Here are some common signs to watch out for:
Disturbed sleep patterns, persistent fatigue, insomnia
The relentless cycle of thoughts about work can disrupt your sleep patterns and leave you persistently fatigued. Don't ignore these warning signs, as they could be indicators that you are either experiencing burnout or approaching it. It's crucial to address this issue promptly to prevent further deterioration of your mental and physical well-being.
Get checked out by your doctor to ensure you don't have any physical reason that keeps you up at night. Then try meditating, or deep breathing exercises, twice a day. Five minutes in the morning and 5-10 minutes at night before bedtime. Also, ensure you get some physical exertion during the day - a 30-minute walk will help your brain turn off the daytime drama.
Frequent headaches, muscle pain
These physical manifestations are often a result of the body's response to prolonged stress. As individuals push themselves beyond their limits, their bodies begin to suffer the consequences. If you are experiencing frequent headaches and muscle pain, it is essential to take immediate action.
Seek support from healthcare professionals or contact trusted individuals who can guide you during this challenging time. Remember, addressing burnout is not a sign of weakness but rather a proactive step towards regaining control over your life.
Weakened immune system, frequent illnesses
The thing about mental and emotional distress, they can lead to physical illness. You can become more susceptible to colds and infections because your defenses are down. If you're suddenly getting sick for no reason, it could be a sign to look at your self-care routine.
Set boundaries and establish a healthy work-life balance. Ignoring or downplaying burnout symptoms can lead to further complications and hinder one's ability to function effectively in both personal and professional settings.
Difficulty concentrating and decreased productivity
This can be directly related to fatigue and insomnia. When you can't sleep well or concentrate, it is natural that you may forget things, not work fast as you did before, and have difficulty making decisions.
Take regular breaks that involve some physical activity 2-3 times during the day, and try some stretching exercises or yoga.
Increased irritability or impatience
When you are experiencing the brunt of burnout, you may act out with hostility due to being disillusioned about business and life. You may micromanage your employees or show annoyance towards a client. If you are not enjoying it and feel like you never will, you may be in burnout.
First, prioritize stress management. Regularly engage in physical activity to release endorphins and combat stress. Take regular breaks and vacations to recharge and rejuvenate. Then work with your team. Delegate tasks and collaborate with your team to distribute workload effectively. Fostering a supportive work environment can significantly contribute to preventing burnout. Encourage open communication, provide resources for well-being, and advocate for policies that prioritize work-life balance and mental health.
Feelings of cynicism, detachment, or apathy
When burnout gets really bad, you might want to pull away from others due to not caring about anything. If you feel like your actions don't matter, it can lead to hopelessness.
If you find yourself self-isolating or feeling like it will never get better, talk to someone. Reach out to colleagues, mentors, or support groups to discuss your feelings and challenges. Consider seeking professional help from therapists or counselors if needed.
Recognizing and taking action to overcome burnout is essential for accountants and CPAs to sustain their well-being and excel in their professional lives. Remember, you are not alone in this journey. Reach out for support, practice self-care, and prioritize your mental and physical health. By doing so, you can restore balance, find fulfillment, and continue to thrive!
If you feel depressed or find yourself idealizing death, please seek professional medical care. You can call the US National Suicide hotline to get help at 1-800-273-8255 or Talk Suicide Canada at 1-833-456-4566.
Trying to do it all?  Imagine if you could get rid of all the time-wasting tasks that clog up your schedule, and just focus on what matters most to your business. Sounds good, right?
Contact me at Info@thetaskva.com for more information, or schedule a quick 15-minute chat.
Take our quiz and see if you need a helping hand