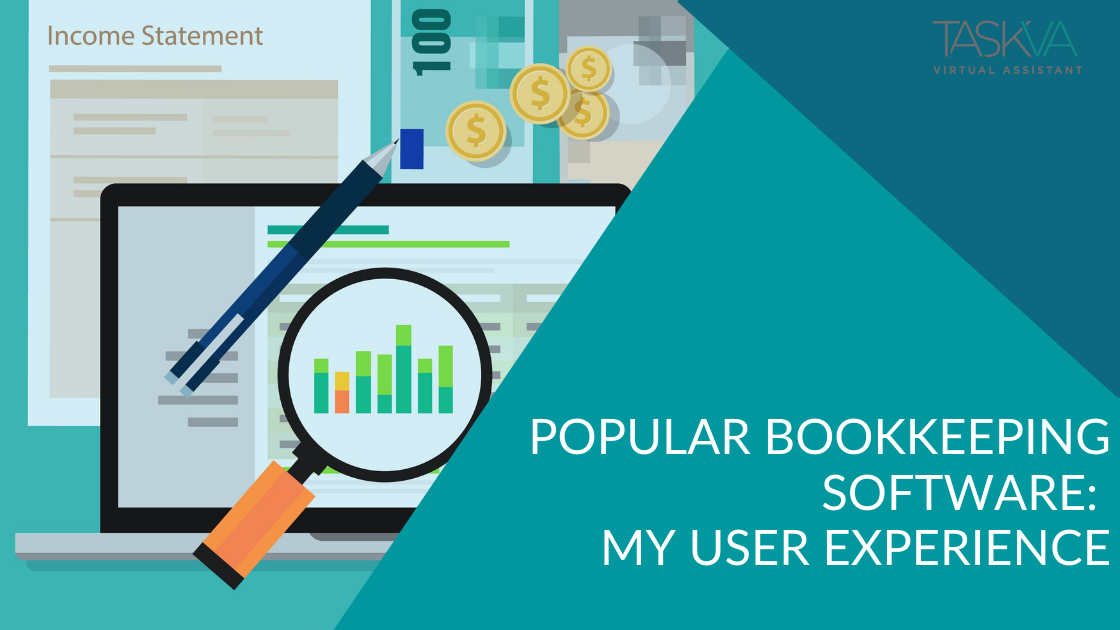 Popular Bookkeeping Software: My User Experience

As we enter tax season, I wanted to talk to you about a few bookkeeping software programs that will help make your tax prep go smooth and stress-free. First let me say, there are many, many applications out there that are really good. A quick google search on "bookkeeping software" returns an onslaught of programs and reports on the best programs, comparisons, etc. It can be quite overwhelming! So what makes my comparison any different? Honestly? Probably not much, but I am going to talk about four programs based upon my user experience with them.
Over the past two years, I have been on the search for the perfect SaaS business solution, from bookkeeping to email marketing to social media management, and everything in between. And yes, there will be reports on all! Today I want to share my real experiences and thoughts on four programs: Quickbooks, Xero, Wave, and ZohoBooks. Complete transparency, some of my links may be affiliate links, meaning I get a small commission should you decide to buy their product, but this report is by no means recommending one or the other. This is just a story of my search for my perfect solution.
I used Quickbooks Desktop in the past, so it made sense for me to choose this software as my business tool. There are at least fourteen different Quickbooks solutions, probably more but I lost count, and it's not an easy task to sort through all of them and choose the one best for you. I chose Quickbooks for Self Employed and immediately realized my mistake, but gave it the old college try. Quickbooks for Self Employed (let's just call it QSE for simplicity's sake!), is an excellent tool for Schedule C filers. You can easily categorize between business and personal expenses, set routine recurring expenses, create tags, and more. The reporting is also fantastic, again for Schedule C filers. If however, you file a Form 1065, as I do, this is not the way to go as it combines all your personal and business data on the P&L and throws everything off. I could never get the two, QSE and my Excel spreadsheet, to match up. It was more frustrating than anything! My experience with Quickbooks customer service was not pleasant, but I'll spare the war story. Suffice to say, that after a few attempts, I finally reached someone who could help me switch my current account to QBO or Pro, and she even offered to do the transition so I wouldn't have to worry about messing anything up. Oops. I should have done it on my own. The transition went smooth, but she pulled EVERYTHING from my QSE, including my personal accounts! Contacted customer service again only to be told that they couldn't fix it, but I could purchase their accounting service and have one of their bookkeepers' help. Wait, WHAT?!?!?!?!? But it was your mistake Quickbooks!
Overall: Quickbooks is a love/hate kinda thing for me. It has exceptional functionality and an array of accounting reports that will help you see your position at any given time. I love the tag feature and the ability to filter within accounts. It's rather simple to use, but a little rigid if you need to fix a mistake. This is going to be the best solution for someone, just not me. Would I go back? I've thought it about, but then there's the hate factor - customer service.
Customer Service: Severely lacking, and this my friends, is a deal-breaker for me. If they up their customer care game, I could be persuaded.
Cost: Reasonable. Different tiers based on your needs. Online Plus has an annual subscription. The desktop version comes with updates for three years.
I liked what I saw of it. But, could not correct an account status from Bank to CC, even though I selected CC when I loaded it. When I reached out to customer service their response was to create a new account (complete new Xero account!) with a different organization name, and then link the credit card account to "Credit Card". Hmmm, but I did that the first time. After a little more digging and researching, I came to the conclusion that if your banking account and credit card account are from the same financial institution, then it will revert to "Bank" no matter what you do. And then, once you link an account, there is no way to change its orientation - even though there is an option to do that just that!
They do have a very easy invoicing system, that walks you through the process very easily, a zero on the frustration scale - haha, no pun intended there! However, I didn't like their choice for ACH - the company wanted way too much information for my liking, and then they wouldn't even cancel my application without first giving them said information. They continue to spam me for this information.
Overall: I never really had a chance to dig in. I went in on a free trial and I spent so much time trying to figure out a workaround for the credit card account that my trial expired. Quick note: once your trial expires, you can not get in to retrieve your data. I recommend downloading your data a couple of days before it expires if you decide not to move forward.
Customer Service: Slow in responses
Cost: Free trial, then monthly subscription packages based on your needs. No annual plan.
This is perfect for businesses just starting out, or if you have a small budget. The program is free for accounting and invoicing purposes. You will get charged transaction fees, just like any other merchant pay program, and you can add Payroll for a low monthly fee. It doesn't have a lot of integrations, and recently discontinued its integration with PayPal. Their suggestion was to use Zapier and create a zap if you need PayPal. This is quite inconvenient not only because you need another program (Zapier), but depending on how many PayPal transactions you do each month, those zaps can get a little bit expensive.
Overall: The lack of integration was a deal-breaker for me and I canceled my account.
Customer Service: I was unable to reach anyone and had to find out about PayPal through a Google search.
Cost: Free for basic service. Payroll plans start at $20 a month.
I've been using Zoho Books for a few months now and really enjoy it. It was easy to get set up and easy to use, once you get past the steep learning curve. They do have several webinars on YouTube to guide you along. The only issue I've had so far is the double, and sometimes triple entry it brings in with the PayPal connection. UGH! I have since disabled PayPal and it's running very smoothly. Zoho Books connects with PayPal, Stripe, Square, and WePay. They also have an ACH program which I have yet to configure. They even have a project and time tracking feature!  It may replace what I use in
ClickUp
!
Overall: Extensive reporting system, invoicing, and accounting, with the ability to add Payroll. Connects to all your Zoho services with a key.
Cost: Free version until your business grows, then tiered pricing plans based on your needs. So far, I'm loving it! And it doesn't hurt that Zoho has a kazillion other products I can rabbit hole down!!
Customer Service: I have not had to contact them, yet.
Cost: Free for basic service. Payroll plans start at $20 a month.