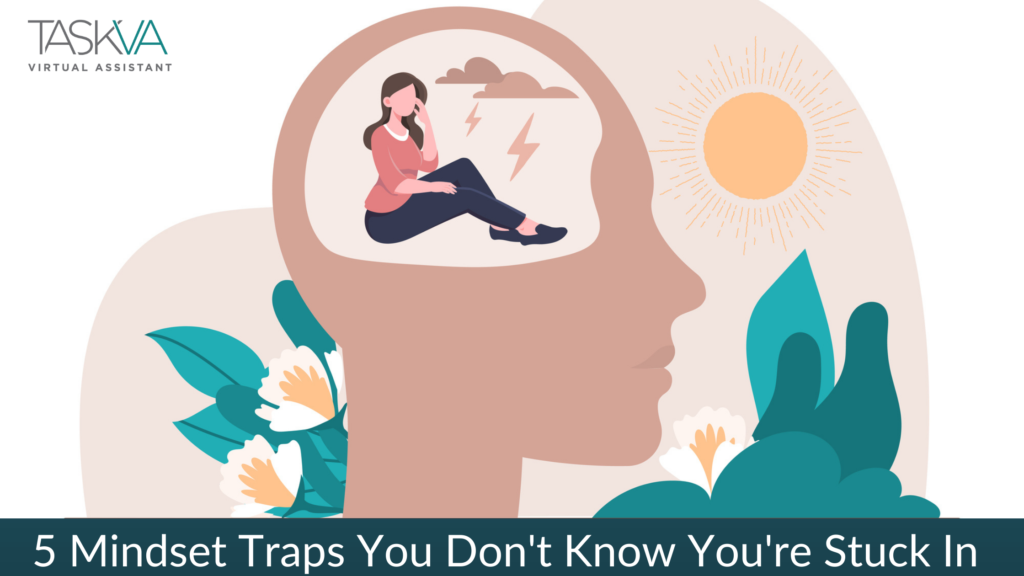 (You Don't Know You're Stuck In)

Today is the Lunar New Year, and it's the Year of the Tiger. The Tiger symbolizes recovery and growth so I thought this was the perfect time to talk about mindsets, or rather mindset traps.
What are Mindset Traps?
The term "mindset trap" is used to describe the ways in which we limit ourselves by thinking about how things are done in the past, or how they should be done. Mindset traps are not always obvious, and definitely not easy to escape. If you find yourself saying things like "I'm not good enough", "It's too late", or "I don't know what I want", you could be stuck in a fear trap, or living in the past. How about, "I can't do anything about it anyway", or "I'm not creative enough"? These are common thoughts of a self-saboteur.
1. The Trap of Living in the Past
Living in the past can be a trap that keeps you from moving forward. Sometimes we get so caught up in what has already happened, that we forget how much potential there is for what can happen next. It is important to let go of the past and not allow it to control your life. I used to have a small wall plaque growing up, "We can't change the past, but we can ruin the future by worrying about the present". In order to live a fulfilling life, you have to let go of the past and focus on what lies ahead of you.
2. The Trap of Letting Fear Stop You 
The fear of success is a common emotion that many people experience when they are on the verge of achieving something great. We may doubt our own worthiness, be afraid we'll suck at it and we'll fail in epic proportions in full view of the whole world.
The first step in overcoming this fear is to understand that it's natural for anyone to feel some level of anxiety about success, especially if they've never experienced it before or if they have experienced failure in the past. Understanding that fear is natural will help you realize that there is nothing wrong with feeling some level of anxiety before accomplishing something new or difficult.
3. The Trap of Self-Sabotage
Are you giving yourself the wrong pep-talk? Instead of using some positive self-talk to get things done, are you by any chance using negative self-talk to keep you from trying? After all, it's very easy to convince ourselves that we're failures. Why do we do it? Because if we know it's not going to work out, we never have to try in the first place. The self-sabotage trap is a common problem, yet it's hard to identify and even harder to solve. The first step is awareness. You need to be actively aware of your thoughts all day, every day. When negative thinking tries to sneak in, stop it and remind yourself of all your strengths. Become your best friend!
4. The Trap of Doing What is Expected
In today's world, most of us have fallen into the trap of doing what is expected at least once or twice. Staying in this trap, and continuing to live your life doing what you think you should be doing and not what you want to be doing, can lead to emotional burnout. But this doesn't have to be the case. If you are not happy with what you are doing, then it's time to break free from the norm and do something different. Listen to your inner self, your gut. You'll find the answer.
5. The Trap of Being Overwhelmed
When we are constantly bombarded with information, we start to feel overwhelmed. When we feel overwhelmed, it is hard to focus on what matters. We need to learn how to manage our time and our energy so that we can stay grounded and balanced. Use a time management process such as the Eisenhower Matrix, the Pomodoro Technique, or the Pareto Principle - or develop your own from a combination of the processes. This will be your roadmap to follow each day as you focus on your tasks. Also, limit your time spent on social media, stop watching 24-hour news programs, and limit your podcast time to only programs that provide you valuable insight into your success. Declutter your mind and you will be more productive, less stressed, and more motivated.
You will stumble upon mindset traps often on your road to success. You can avoid stepping on them by developing a daily routine that includes meditation, and mindfulness activities such as journaling, deep breathing, and single-tasking. Stop being a perfectionist. We all make mistakes, learn from them. You will fail, and you will do it many times in your life. Embrace this as a gift rather than a burden. Don't tell yourself you are a failure, tell yourself that you just learned what doesn't work.