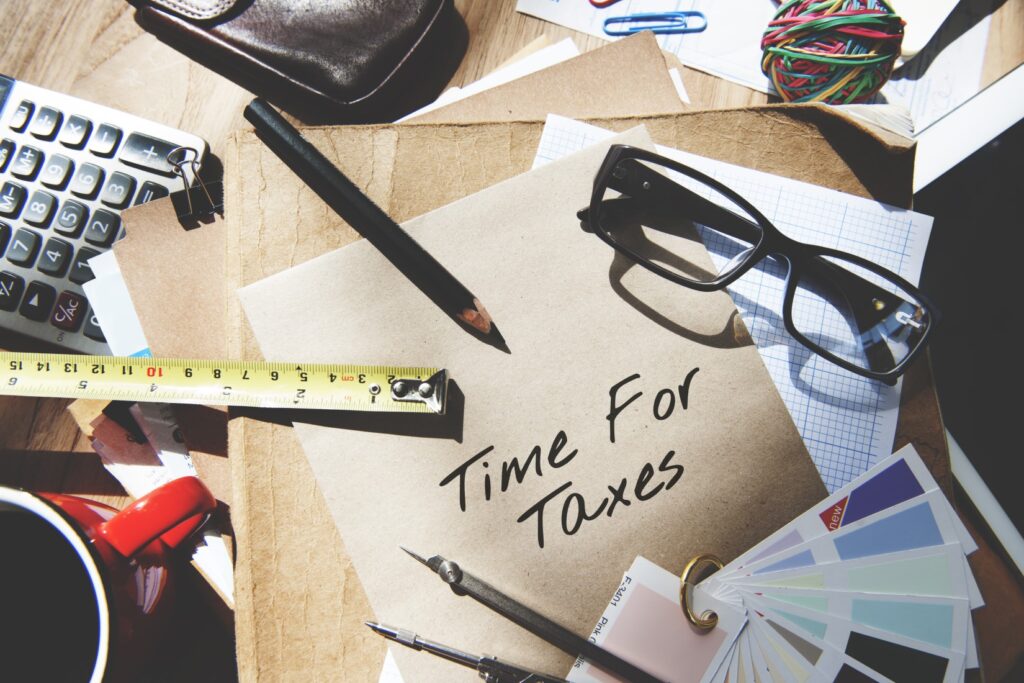 7 Tax Time Tips
Prepare Now, No Stress Later

April 18th  will be here before you know it (March 15th for many small businesses). Start getting ready today with our FREE Tax Guide and Checklist.  Preparing ahead of time for the filing of your income taxes can reduce your stress.
For many reasons, feelings of dread and the tax season seem to go hand in hand.  Waiting until the last minute to file and scrambling to find your documents will only add to that sense of dread and elevate your stress levels. Follow these seven tips to get organized and file your taxes on time:
1. Collect all income related documents
W-2 Forms: If you held a job in 2022, you should have a W-2 for each job. Find the W-2s for each person in the household that worked. A W-2 contains your wage information and the various taxes that were withheld. Your employer is responsible for getting this form to you by January 31, 2023.
1099s: You should receive a 1099 based on the source of income such as NEC: contract labor, G: unemployment, MISC: school loans, gambling winnings, DIV: Dividends, INT: Interest Income.
1098: You can find payment information on your 1098  for items such as property taxes and school loan payments.
Other income-related documents and Information:
Various income and interest statements from your bank or brokerage. Ensure you have a statement for each account.

Bank account number: If you'd like your refund deposited into your account, you'll need your account number and routing number. This information can be found at the bottom of your checks.
Be sure to review all the forms and information. Is everything accurate? It's not unusual to find a mistake or two. Take the time to review all documents with a fine-tooth comb!
2. Collect all paid receipts
Collect any work-related receipts for anything you purchased for your job and didn't receive reimbursement. If you are self-employed, the list of qualifying items is likely to be much longer. Computers, furniture, marketing expenses, and utilities are all viable deductions for the self-employed. Using a Profit & Loss (Income) statement during the year is a great way to keep it all organized. Bonus: you can track your monthly cash flow at any point and adjust your goals as necessary.
Hiring a bookkeeper will take the burden off your plate, and in many cases, it's tax-deductible! 
3. Collect proof of energy-efficient improvements
Did you make any energy-efficient improvements during 2022?  You may be able to take a credit of 30% of the cost, limited to $500. Items like insulation and energy-efficient doors and windows qualify. Have your receipts handy.
4. IRA/Retirement Documents
Collect proof of your IRA contributions. Cancelled checks or the brokerage statement are ideal. Your employer will provide your 401(k) contribution information.

You will also need any payouts you received such as lump-sum distributions. You might have gathered this with your income related documents, so go ahead and put it in a separate pile. This type of distribution is not considered income, but may still be taxable.
5. Social Security Documents
Collect social security information for everyone in the household you will be claiming on your return.  The social security number is required to ensure that each child/dependent is only claimed once. If you have a young child, it might be necessary to apply for a social security number. IMPORTANT: You must have a social security number for all dependents before any applicable tax credits will apply. This includes credits such as Earned Income Credit (EIC), Child/Dependent Care Credit, and Child Tax Credit.
Collect information regarding charitable donations. It's becoming more important with each passing year to be able to detail and substantiate your charitable donations. Receipts are especially important. Taking pictures of donated items isn't necessary, but recommended. Cancelled checks and credit card statements are also important.
Review last year's tax return. Last year's return can be useful. You might find a carry forward from last year that should be applied to your current tax return. This is especially true for business gains/losses and depreciation.
Filing taxes doesn't have to be a stressful process. Organization is the key. Keep track of your important documents and receipts. Take pictures of items you're donating.
Make next year better than this year. After your return is filed, develop a system to manage your documents and receipts for next year. Choose a place to store everything you'll need for the next time. A small amount of preparation can make everything easier in the future. When tax season rolls around, you'll be ready to go!