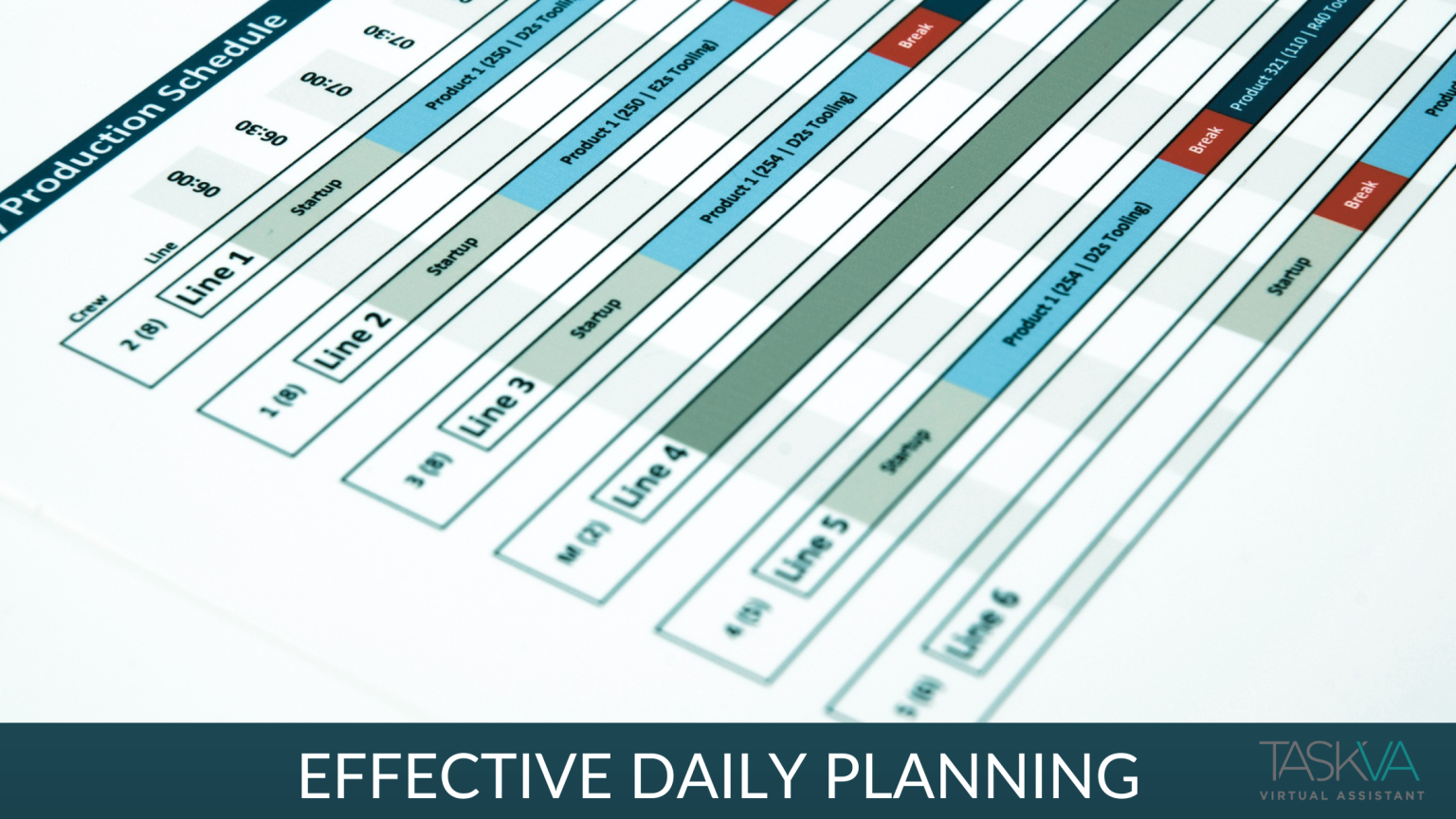 Effective Daily Planning: Getting Things Done

It's no secret that the world is a fast-paced place. We're constantly inundated with new information, technology, and change. For many Accountants and CPAs, this pace can be overwhelming. If you don't take the time to plan your days, you can easily lose focus and become less productive. This can lead to even more stress and anxiety as you try to play catch-up.
Not planning your day can lead to missed opportunities and goals and can hurt your client relationships.
Learning to be more productive in your everyday life is important to combat this. And while there are many different ways to increase productivity, one of the most important is learning how to effectively plan out each day.
First, you must define what "done" means to you and your staff if planning their day. Knowing your "done" will help you plan realistically (and stop when it's 'done' – no perfectionism allowed). This may mean setting a daily or weekly goal for what you want to achieve. For example, if your goal is to complete your continuing education plan, "done" could mean completing two hours daily. If your goal is to engage more with your followers on social media, "done" could mean posting and interacting three times a week. Once you clearly understand what "done" looks like, you can start to really plan your days.
Next, you must decide what end results would make the day a success for you and your team. This will help you focus on what's truly important and let go of anything that isn't. This step involves really thinking about what you want and need to achieve. If you don't know what results you want, it's pretty hard to plan your day effectively!
The next step is to break down those desired results into tasks - the actions you need to take to make the day a success. Be mindful of what you choose to prioritize, you don't want to waste time doing tasks that won't help you achieve your daily goals. This is also a great time to note any tasks that you can delegate to your virtual assistant to lighten your load.
Planning and Preparing
Now that you've decided what "done" looks like, selected your goals for the day, and broken them down into tasks, it's time to start planning and preparing.
What does that look like? For many, it involves planning out times throughout the day for specific prioritized tasks. Start with the most important tasks first.
Part of the planning process also involves preparing. Ensuring you have all the necessary resources is an important piece of the productivity puzzle. Try sketching out a general plan for the week in advance and list the resources you need to obtain or access for each task. Especially if it's something you need from someone else or if you need to provide it to a staff member so they can do their task. Preparing in advance allows time for you to get all of those things together.
Another part of the process is to plan ahead. Use a weekly or monthly planner in addition to the daily plan. Planning ahead allows you to allocate your time appropriately to achieve your goals. If you want to complete a large number of work tasks, but you also have several doctor appointments, meetings, kids' activities, etc., scheduled that week, you'll quickly see that you do not have as much time as you thought and you can prioritize tasks accordingly.
Bonus tip:  Publishing the company's weekly or monthly plan also helps your staff better plan their day!
You can also use productivity technology that's available to you to make your tasks easier. Many tools are available today that can automate processes or at least make them simpler or faster to complete. Digital planners, Google Calendar, productivity apps, AI tools, scheduling tools, etc., are all technology resources you can utilize to make your life (and work!) easier. Don't get so caught up in finding the "perfect" technology to use either – the best tools are the ones you will use consistently.
If you are not as productive as you think you should be or if your staff hangs out more at the water cooler, using a strategy like the ones shared above can be an excellent way to get things done by focusing on the goals and tasks most important to your accounting firm.  And finally, check your plans often to ensure they match your goals and adjust when necessary. What works in the summer months may not be realistic during Tax season.