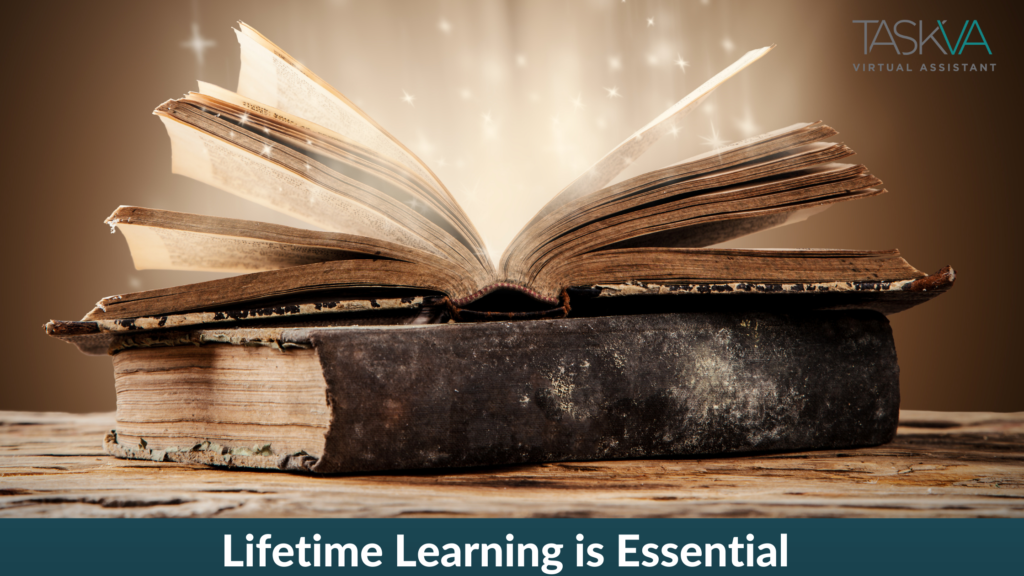 Lifetime Learning is Essential

There is one thing that is certain in life, and that is change. If you are like me, you embrace change because it is another chance to learn and gain something new. I am an avid learner, a lifetime student if you will. I learned early on that if you want to succeed, you must stay one step ahead, and the way to do that is through learning.
Increase Your Confidence and Motivation
A lot of anxiety or fear stems from a lack of knowledge. If you strive to learn something new as often as possible about your niche and the world at large, you will empower yourself to do better, thus making you believe in yourself, and boosting your confidence while giving you the knowledge to be successful.
Keep Up with Your Competition
"The simplest way to learn business is to study your competition and improve what they are offering." - Ehab Atalla
"Study your competition", is exactly what Netflix did. Netflix saw a change in technologies and tried to understand and learn new ways to improve its business model as well as its biggest competitor, Blockbuster. They now lead their industry by streaming movies and television shows straight to your T.V. and have become a model for all streaming services.
Tawnya Sutherland, a pioneer in virtual assistant training and networking, fully understands the importance of studying your competition and dedicates an entire section on the subject in her signature, "Virtual Assistant Career training program"; from knowing your customer to introducing your business, she spells it out and walks you through it.
Fully Understand Your Potential
Learning unlocks skills and resources about yourself that you would have never discovered if you didn't make an effort to do so in the first place.
"Learning is a constant process of discovery - a process without end" - Bruce Lee.
I remember mom always saying, "you can't say you don't like it if you don't try it." Same idea here, if you don't continue to learn, you'll never know what you could be.  And you can quote me on that 😉
Be Successful
To be successful and keep up with your business, you must continue learning new technologies, software services, and social media platforms. And I can't think of a better "one-stop learning center" than Freelance University. Here you can hone a specialized skill, get live training support, attend workshops and learn the latest technology, all in one place!
But success doesn't stop with learning new skills. If you want to keep up with the crowd you need to learn new strategies. What worked five years ago, might not work today. As a business owner, it is important to stay up-to-date with the latest trends and news in your industry. This way, you can always be on top of what's happening and address any issues as they arise.
Create the Job or Life You Want
Learning is an important part of our lives. We learn from childhood to adulthood, and it is never too late to learn something new. Learning unlocks worlds, ideas, values, and inspirations you never knew existed. When you learn, you create more choices in life to live the way you want. Not sure what you want to be when you grow up? Check out LinkedIn Learning; whether you're looking for continuing education, or want to try something new, this is a great source to have. If you already have a premium account, then LinkedIn Learning is free, otherwise, it's a nominal monthly fee, and has a 1-month trial. 
Learning is a lifelong process that takes place anywhere and anytime - at work or at home, on the bus, or in the car. It can take many forms: reading a book, listening to a podcast, watching a video on YouTube, attending a conference or workshop - the list goes on and on. Education, knowledge, and experiences are fun and rewarding. They, together with practice, are vital for growth, understanding, and compassion for the world. Education and learning provide no consequences if you want to accomplish your dreams and be more productive. Keep reading, experimenting, and jump out of your comfort zone to learn and gain more knowledge.
"You'll never be bored when you try something new. There's really no limit to what you can do! - Dr. Suess